Aransas County Texas
County Clerk
Carrie Arrington
Aransas County Clerk's Office
2840 HIGHWAY 35 N
Rockport, TX 78382-5711
Phone: (361) 790-0122
Fax: (361) 790-0119
Email: Click Here


NEW OFFICE HOURS:
8:00 a.m. to 12:00 p.m. and 1:00 p.m. to 4:00 p.m.
Please arrive no later than 3:45PM; in the event you are seeking a marriage license, please arrive no later than 3:30PM.

PLEASE NOTE:
We do not conduct telephone searches.
We do not ACCEPT any Out of State Personal Checks.
The Aransas County Clerk's Office will be CLOSED on Friday, December 2, to facilitate the needed software conversion from its current recording software system to its new (greatly improved) Tyler Eagle Recorder software system.

The Clerk's Office will re-open on Monday, December 5, at 8:00 AM.

To learn more about the benefits of the new recording software and how it will help this community, please look for additional information to follow in the The Rockport Pilot during the week of December 5th.

Thank you,
Carrie Arrington
Aransas County Clerk
County Clerk's Office receives 5-Star Exemplary Award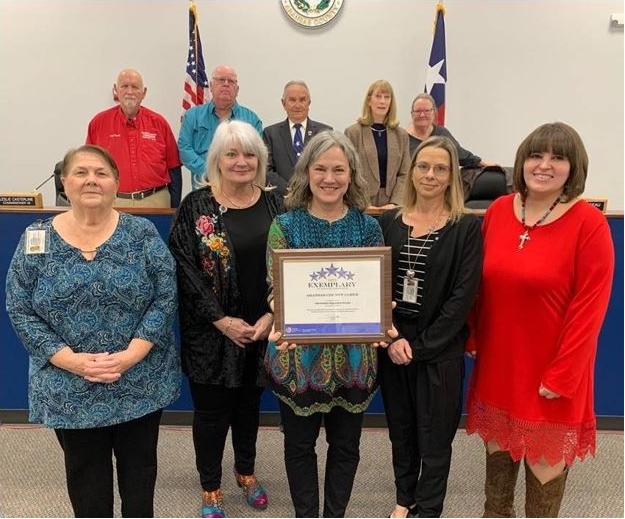 Aransas County Commissioners, at their regular meeting Monday, February 28, 2022, recognized the Aransas County Clerk's office for earning the 5-Star Exemplary Award - the Texas Department of State Health Services' Top Award for Excellence in Vital Statistics – for 2021.
This award was created by DSHS in 2002 to guide each county to do its best work with its vital records, and to honor the top counties each year who consistently meet or exceed stringent criteria across five areas: training, assessment, customer service, security, and maintenance. The Aransas County Clerk's office has received the 5-Star Award on six occasions.
Addressing the court, County Clerk Carrie Arrington stated, "This work and these records are critical for the public, so there are exacting standards and strict reporting requirements. I am very proud of my staff and the quality of their work. And, I am so pleased for them to receive this well-deserved recognition. They do an exceptional job each and every day for this County."
BORN IN TEXAS AND NEED A BIRTH CERTIFICATE?

TEXAS BIRTH CERTIFICATES AVAILABLE

IN THE COUNTY CLERK'S OFFICE

BORN IN ARANSAS COUNTY – LONG AND SHORT FORM AVAILABLE

BORN OUT OF COUNTY – SHORT FORM AVAILABLE
Please be aware that the Aransas County Clerk's Office can, once again, issue (short form) Remote Birth Certificates for anyone born in the State of Texas.
And, of course, if someone was born in Aransas County, we continue to issue a requestor's choice of long or short form birth certificates.
Also, so you know, a person can only receive 10 copies of their birth certificate from a County Clerk's office (or other local liaison) in their lifetime, and these numbers are tracked. After 10 copies have been issued, liaisons are required to direct requestors to the Vital Statistics area of Texas' Department of State Health Services for them.
______________________________________________________________________________________

Welcome to the web page for the Aransas County Clerk. We hope this site will be of assistance to you while giving new insight into the work we do.

Our Mission
This office of County Clerk has been in existence in Texas since 1836, superseding the "escribano" (secretary) of Spanish-Mexican rule. Article 5, Section 20 of the Texas Constitution, provides:
"There shall be elected for each county, by qualified voters, a County Clerk, who shall hold his office for four years, and shall be clerk of the County and Commissioners Courts and recorder of the county, whose duties, prerequisites and fees of office shall be prescribed by the Legislature, and a vacancy in whose office shall be filled by the Commissioners Court, until the next general election; provided, that in counties having a population of less than 8,000 persons there may be an election of a single Clerk, who shall perform the duties of the District and County Clerks."
The County Clerk is elected in the same year that voters select the Governor of the State and the County Judge and in Aransas County, the County Court at Law Judge.
Qualification Requirements for Public Office:

Must be a citizen of the United States, have lived in the State of Texas for a period of 12 months before the date of any primary, general, or special election, have not been determined mentally incompetent by a final judgment of court, have not been pardoned or otherwise released from the resulting disabilities, and have lived for six months before such election in Aransas County.
Continuing Education:

Within one year of the day on which a person first takes office as County Clerk and each year thereafter, he or she must successfully complete 20 hours of instruction in the performance of the duties of the office including 1 hour in the Registry of the Court and 1 hour in fraudulent filings.
County Clerk's Profile:

The County Clerk's office is staffed by 7 persons and is responsible for the following:
- Recording and Filing Instruments

- Instruments that prove ownership or interest in real or personal property such as deeds, deeds of trust, heirship affidavits, financing statements, assumed names, brands, etc. 
- Notices of Meetings, foreclosures, and beer and wine licenses are filed by the County Clerk's Office and posted on Courthouse bulletin board. 
- Instruments concerning the identity of persons, such as birth and death certificates, marriage licenses, military discharge papers. 
- All official map and plat records are maintained in the Clerk's Office, along with county precinct and city ward boundary maps. As a courtesy to the public, an index to restrictions is also maintained. 
County Clerk - Jury Duty Information
If you were summoned for jury duty for 9:00 AM on Monday, November 07, 2022, please arrive to the Aransas County Courthouse a few minutes early. Also, please take some time this weekend to review the summons and complete the mandatory juror questionnaire on it. On Monday, bring the entire summons with you, plus a ball point pen with blue or black ink, and dress appropriately. Thank you.


Jury Service Hotline - (361) 790-0167 Option 2

To postpone your Service (County Clerk Summons Only) Contact the County Clerk's Office for Approval at (361) 790-0122 before your scheduled date of service
Click Here For The Jury Duty Information Page