Aransas County is located on the Gulf of Mexico and offers the relaxed, laid back quality of life of a coastal community. Local business includes environmentally friendly industries of seafood, oil production, tourism, sport hunting and fishing, boating and water sports, fine art and sculptures, and bird watching.
The population is three-fold from local residents, summer vacationers and winter residents. The largest and fastest growing population is retirees relocating to the area; many of whom volunteer their time to over one hundred clubs and organizations in Aransas County. Available housing ranges from modest to ultra luxurious residences. 
Local governments are strong and creative, merging tax dollars on selected projects to reduce costs, merging services and bringing relief to taxpayers. Sport hunting and fishing exists hand-in-hand with fine art, while bird watching unfolds on nature's coastal stage. While the second smallest county in the state, Aransas County has one of the fastest growing populations in Texas.
Stay Up-to-date on the collective Covid-19 Pandemic Response; "One Voice. One Message"; from Aransas County, City of Rockport, and Town of Fulton.

City of Rockport - COVID-19 News - Get the Facts!

Out of an abundance of caution: All County Offices Are Closed to the Public as of March 23, 2020.
Aransas County will continue to consult with the Centers for Disease Control (www.cdc.gov) and Texas Department of State Health Services (www.dshs.texas.gov) and comply with the latest Federal and State orders.
Please communicate by E-Mail or Phone with the department you need; contact information may be found for each department on our page.

O-03-30-2020 ORDER TO STAY AT HOME
Read the Order - O-03-30-2020
Essential vs. Non Essential Fact Sheet
Election Results

Press Releases

Financial Transparency

Aransas County Harvey Relief and Recovery Website
Aransas County Emergency Notification System Registration, powered by Code Red

(UPDATED) 2019 TAX RATE TRUTH-IN-TAXATION SUMMARY

NOTICE OF ADOPTED 2019 TAX RATE

About
Welcome! We hope to provide a place to quickly and efficiently find county related information. Please do not hesitate to send us your feedback, we would love to hear from you.  Thank You.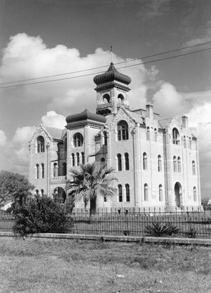 1939 Rockport Courthouse. Photo courtesy of TxDot.